President Obama Posts First Signed Tweet Live At Twitter Townhall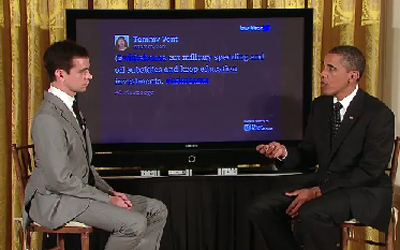 Earlier in June Barack Obama announced that he would start signing his personal tweets with "-BO." Wednesday we saw the first tweet signed with Obama's initials on the White House Twitter account.
The tweet was in regards to the Twitter Townhall meeting, where the president answered questions about jobs and the economy that were sent to him accompanied with the hashtag #AskObama via the social network. The meeting was live-streamed on Twitter's website and hosted by Twitter's co-founder Jack Dorsey.
in order to reduce the deficit,what costs would you cut and what investments would you keep - bo

Obama has had an active personal Twitter account for a while and recently switched the administration over to his campaign team which is why he needed to pen his own tweets.
While it's unclear how often the president will write his own tweets, we can expect that Obama will continue to use social media to benefit his campaign and keep the public informed.
At the time of this writing the president has almost 9 million followers on Twitter and over 21 million fans on Facebook.
What do you think he will tweet about next?