STUDY: 38% Of Teens Not Happy With Facebook Changes, Many Plan Switch To Google+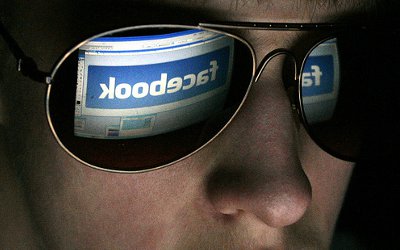 Facebook has rolled out several major updates lately, including the Subscribe button, a new-look News Feed, the ticker and the ability for apps to passively share your activity through the latest version of Open Graph. However, many teens, who use the social network more than any other demographic at 90 minutes per day, are getting upset with the changes, with a significant percentage saying that they will start to use Google+ more often.
In a study carried out by Mr. Youth and published by eMarketer, almost half of the teens who were surveyed say that the Facebook updates make the social network feel cluttered, while 42 percent claim that they are making navigation of Facebook much more confusing. The teens who responded to the survey were particularly unhappy about the ticker, which they say displays too much information and was described by some teens as being "stalkerish."
Around 38 percent of respondents say that they will either stop using Facebook or use it less often. Approximately 21 percent say they will use Facebook less often and start using Google+ more, with 6% saying they will stop using Facebook altogether in favor of Google+. Around 11 percent say that they will stop using Facebook, with their overall social media usage dropping too. Just 3 percent say that they will use Facebook more, while
59 percent will continue to use the social network at for the same amount of time.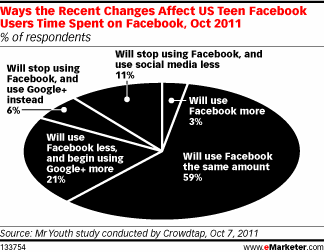 Meanwhile, a study carried out by Constant Contact and Chadwick Martin Bailey took a look at how teens interact with brands on Facebook. The main reason why most teens Like a brand (58 percent) is because they are a customer of the company, while 57 percent become fans of a brand in order to receive promotions and discounts. Around 31 percent Like brands to become among the first to receive news and other updates from the brand, while the same percentage do so in order to gain access to exclusive content.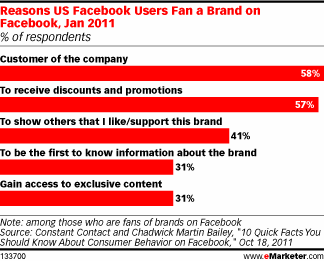 Given that Facebook has more than 800 million monthly active users, Google+ could see a massive boost in user numbers if a significant percentage of Facebook users make the switch, as indicated in the study. Although the study relates to teens' feelings about Facebook's changes, this level of unhappiness will undoubtedly be reflected among other demographics, so we could arrive at a situation where disillusioned Facebook users start to leave and urge their friends to go to Google+ instead, creating a ripple effect. Just a thought, but if the level of anger towards Facebook persists (something that could actually intensify when the Timeline is rolled out to all users), it's something that may happen.