'Webcam 101 For Seniors' YouTube Video Goes Viral, Grandparents Struggle To Use Webcam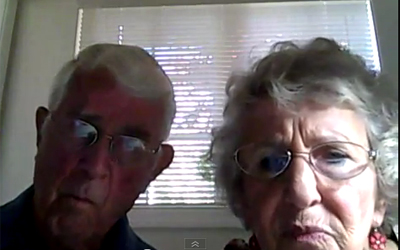 Esther and Bruce Huffman became overnight sensations when their 21-year-old granddaughter uploaded a video of them struggling to take a picture with their webcam — she had their permission of course.
ABC News reported Wednesday that the video had been viewed a little more than 100,000 times and in just a few short weeks after it was uploaded, the video has garnered over 6 million views at the time of this writing and has thrust the unknowing Oregon couple into the YouTube spotlight.
Esther, who met Bruce at the retirement complex after his first wife died, was asked by her family to try to record videos for her grandchildren, according to KATU. In this video, she attempts to do just that and keeps a straight-laced but fairly confused demeanor throughout the entire video. Bruce is the exact opposite, making monkey faces, singing songs from Looney Tunes, joking about seeing his wife's boobies and complimenting her hair.
The video's popularity isn't really surprising. It's not only popular for the hilarity of the couple's inability to take a photo but for the sheer sweetness of their relationship. When Bruce jokes, "I'm so sad, Esther, I'm so sad. Look at all the wrinkles up there," Esther sweetly laughs. The video is filled with her girlish giggles as she's trying to seriously figure out how to capture the moment.
Finally, a warning message pops up on the video stating, "Warning, you must stop recording before trying to close cyberlink."
"Gee, but I don't know what I'm recording," Esther says.
Her husband finally figures it out and says, "Maybe this recorded us."
In case you were wondering, this video is not staged or fake. It's completely real which makes this couple even more charming. Check it out below.